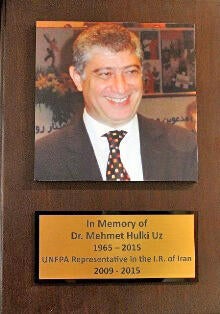 "What I will most remember about Hulki was his immense gregariousness, his ability to pull people together, his booming, powerful laughter for he was always the life of any gathering. These – and many more – are the memories which will stay with us forever" said the UN Resident Coordinator, Mr. Gary Lewis.
Mr. Lewis said these words on 3rd August at the United Nations Common Premises (UNCP) in Tehran as the UN family in the Islamic Republic of Iran, along with government officials, ambassadors and UN staff, gathered to celebrate the life, the work and the lasting contribution of Dr. Uz by dedicating and naming the UNCP Conference Room after him.
On 8th May 2015, the UN family received news which left everyone shocked and in grief – an old, treated cancer had flared up and claimed the life of Dr. Uz.
At the event, the Deputy for Iranian Academy of Medical Science, the Turkish Ambassador along with the UN Resident Coordinator and UNFPA Assistant Representative unveiled the memorial plaque and officially re-named the UN Conference Room to Dr. Mehmet Hulki Uz Conference Room.
Mehmet Akdogan, Technical Advisor at UN-Habitat and a close friend of Dr. Uz read the message of his wife and children (living in Ankara) for the attendees. The message stated: "He was very pleased from the attention and respect from his friends in the government, diplomats, the UN Staff, his friends in the office and other friends when he came back to Turkey."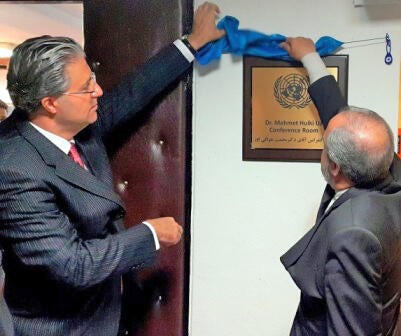 In the message, his wife stated: "Naming the main UN Conference Room after my husband, Mehmet Hulki Uz is extremely prideful for us. I would like to share my endless thanks to the people who worked to make this ceremony happen."
H.E. Mr. Riza Hakan Tekin, Turkish Ambassador in the I.R. of Iran also shared a few words about Dr. Uz. He said, "I really appreciated his dedication to his work and his love for this country – Iran, in which he spent five years of his life – his last 5 years […] and he has touched a lot of people's heart during his stay here."Mr. Tekin added: "In conclusion I would like to thank you all who came here to commemorate Hulki."
Dr. Nicknam, Deputy for Health International Corporation Group of Academy of Medical Sciences and another friend of Dr. Uz also spoke at the ceremony and said: "Dr.Uz's life is finished in this world and based on our knowledge he has a clean record. He was a man of many good actions."
Dr. Nicknam continued: "On behalf of myself, Ministry of Health and Medical Education and Academy of Medical Sciences, I express our deepest sympathy to his family and friends."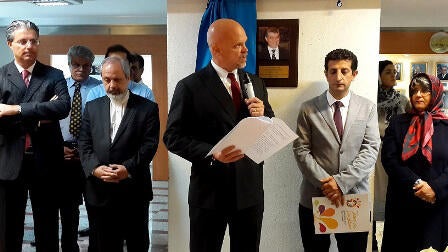 Concluding the ceremony, Mr. Lewis said: "It is so desperately saddening to think that someone with this much potential to do good in the world – and who had done so much good in this world – should have been taken away from us at such an early age."
Mr. Lewis thanked the attendees for joining the UN Family and said "On behalf of a grateful United Nations, I now dedicate this Conference Room to the memory of Dr. Mehmet Hulki Uz – our brother and our friend. Goodbye, Hulki. May your Soul Rest in Peace."