October 01- The International Day of Older Persons was jointly commemorated by Tehran's Municipality, the Ministry of Cooperatives, Labor and Social Welfare, State Welfare Organization in collaboration with UNFPA.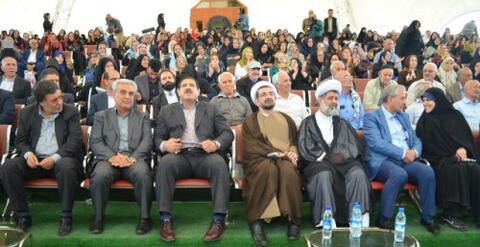 Throughout a short walk in the opening ceremony some older citizens shared their concerns and experience with a number of high caliber government figures attending the ceremony such as Dr. Rabei, Minister of Cooperatives, Labor and Social Welfare, Alireza Mahjoob, Member of Parliament Representing Tehran, Dr. Mohseni Bandpey, Head of State Welfare Organization, Hojatol-elslam Amroudi, Deputy of Social & Cultural Affairs in Tehran Municipality, Dr. Asadi, Mayor of District 5 in Tehran and Dr. Delbari, Head of Tehran Welfare Organization.
Based on the latest figures, elderly constitute 6.1 million of Iran's population and the number will reach 18 million in 20 years. The issue of elderly's health, although important, is not the only concern ahead of the Islamic Republic's government as other subjects such as well-being and social and economic participation acclaim the same level of significance.
On behalf of President Rouhani's government, Dr. Rabei hailed the elderly on the occasion and pointed out the necessity of establishing age-friendly manners in the society and added: "We have to achieve a responsible and tolerant society. We must empower the elderly to create a happy and healthy generation of older persons." The Minister then shortly spoke to some older persons present in the ceremony and thereafter continued the appreciation with presenting some aged participants with tokens of appreciation.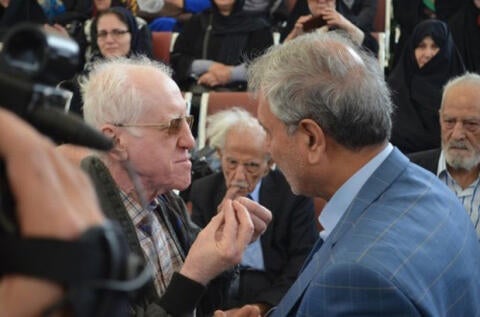 Mr. Mahjoob, representing Tehran in the Parliament, expressed willingness to join authorities in addressing elderly issues and said: "elderly have been neglected in the past. We must attend their needs as soon as possible to turn threats to opportunities."
Dr. Mohseni Bandpey also expressed gratitude towards holders of the event and added: "Attending elderly needs on all levels means giving full support to 6.5 million of Iran's population. Currently the State Welfare Organization has a comprehensive road map in its agenda to empower elderly which will be in force with the support of other responsible organizations".
In 2014, UNFPA and its partners successfully facilitated exchange of knowledge and experiences between the Iranian senior experts and the international community on ageing issues. Through the technical support of HelpAge International the Strategic Plan of the Elderly was extensively reviewed and finalized. The document is ready for approval by the Government.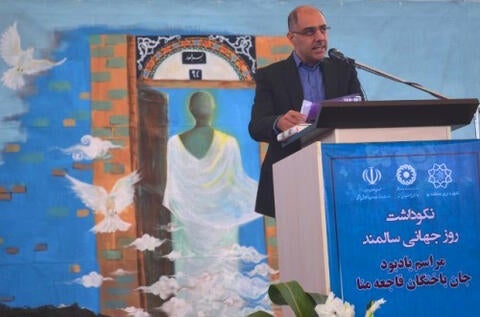 On this matter, Mr. Kabiri, UNFPA's Programme Analyst, read out parts of messages released by Ban Ki Moon, the UN Secretary General and Dr. Babatunde Osotimehin, UNFPA Executive Director and added: "By end of 2015, We will facilitate series of technical sessions between the Iranian senior experts and high level specialists from the International Federation on Ageing and HelpAge International on three main areas including: Age-Friendly Environments, AgeWatch Index and Development of Ageing Action Plan. We are also engaged in several other advocacy activities to promote evidence-based planning for the elderly."
The event will go on throughout the next week with various amusing plans for the elderly.